From New Orleans to Diamantina Brazil, Carnival reigns supreme
Diamantina Brazil is a tiny town about 4 hours north of Belo Horizonte, the capital of the state of Minas Gerais. I visited this unlikely party town during the Carnival season and it was full of energy and excitement. I come from the state of Louisiana in the southern part of the USA. In Louisiana, we celebrate Mardi Gras, which is just the French name for Carnival. Needless to say, I felt right at home amongst the street dancing, live music, and historic architecture.
Of course, this was no New Orleans Mardi Gras. This was something totally new to me. The conditions more rustic, the air more breathable, the food somehow even more delicious, and the energy electrified by the pure Brazilian spirit.
This post was written with support from Embratur, which is part of the Brazilian Ministry of Tourism and which operates VisitBrasil.com. They have supplied me with images and marketing support. All views expressed are solely my own and based on my personal experiences and independent research.
In A Nutshell
Highlights - 300-year-old colonial architecture is marvelously preserved, very walkable, UNESCO Cultural Heritage Site, immediate access to beautiful nature, trails, and waterfalls.
Lowlights - Lacking public transportation, hilly and uneven surfaces to walk on, far from any major transportation hubs.
Bottom line - If you are visiting at Carnival and want the 'real' Brazilian experience, or if you are looking to connect with nature and enjoy the great outdoors, then Diamantina might be the very best place in Brazil to visit.
Celebrating Carnival in Diamantina
Diamantina is to Carnival in Brazil, what Mamou is to Mardi Gras in Louisiana: a tiny town of just a few thousand inhabitants that most of the year goes unnoticed, but which the whole country turns to at Carnival to host the "local and authentic" celebrations of the holiday.
Because the town is so small, there is not enough demand to build up a lot of accommodations in the area. A quick search on trivago shows 32 hotels in the Diamantina area. Airbnb has almost twice as many listings for private accommodations. That said, if you want to visit for the Carnival, you should book your accommodations well in advance. They will sell out early.
Luckily, since Diamantina is so small, you won't have much trouble navigating your way around once you arrive. The city is built on a hill and the historic cobblestone streets will make walking a challenge even for healthy-kneed youngsters. If you struggle with stairs or rough terrain, then you might want to look elsewhere to celebrate Carnival, as all the streets will be closed to car traffic and you will be forced to walk everywhere.
Though you might like to rent a car to drive to Diamantina, you won't be able to use it too much in the town once you arrive. Going by bus is also a great option and then you don't have to pay for a car to just sit there for the days of the celebration. However, there are also some really amazing national parks nearby with spectacular hiking and waterfalls which are most easily accessed by car or by hitchhiking.
You should also note that during Carnival, access to churches and museums is restricted.
Here is a video of the celebratory side of Diamantina during Carnival, featuring my friends Lilian and Glauco, and 18-year-old me.
Visiting Diamantina outside of Carnival season
The majority of the year is not Carnival season and so Diamantina turns into a great place for relaxing and connecting with nature and history. Diamantina is listed as a World's Cultural Heritage Site by UNESCO for the role it played in establishing early Brazilian colonial wealth. As you might have guessed by the name, the area is rich in mineral resources, most notably, diamonds.
Diamantina has been masterfully preserved through the centuries and since it never expanded into a major metropolitan area, pretty much the whole town is in the original footprint.
There are several notable figures to come out of Diamantina. In particular, Juscelino Kubitschek, who was the president of Brazil in the 1950's, and who constructed the modern-day federal capital of Brasilia. I find it fascinating that such a small and historic colonial town produced the person who in addition to leading the country at a very important time, also envisioned the creation of a modern and planned capital city.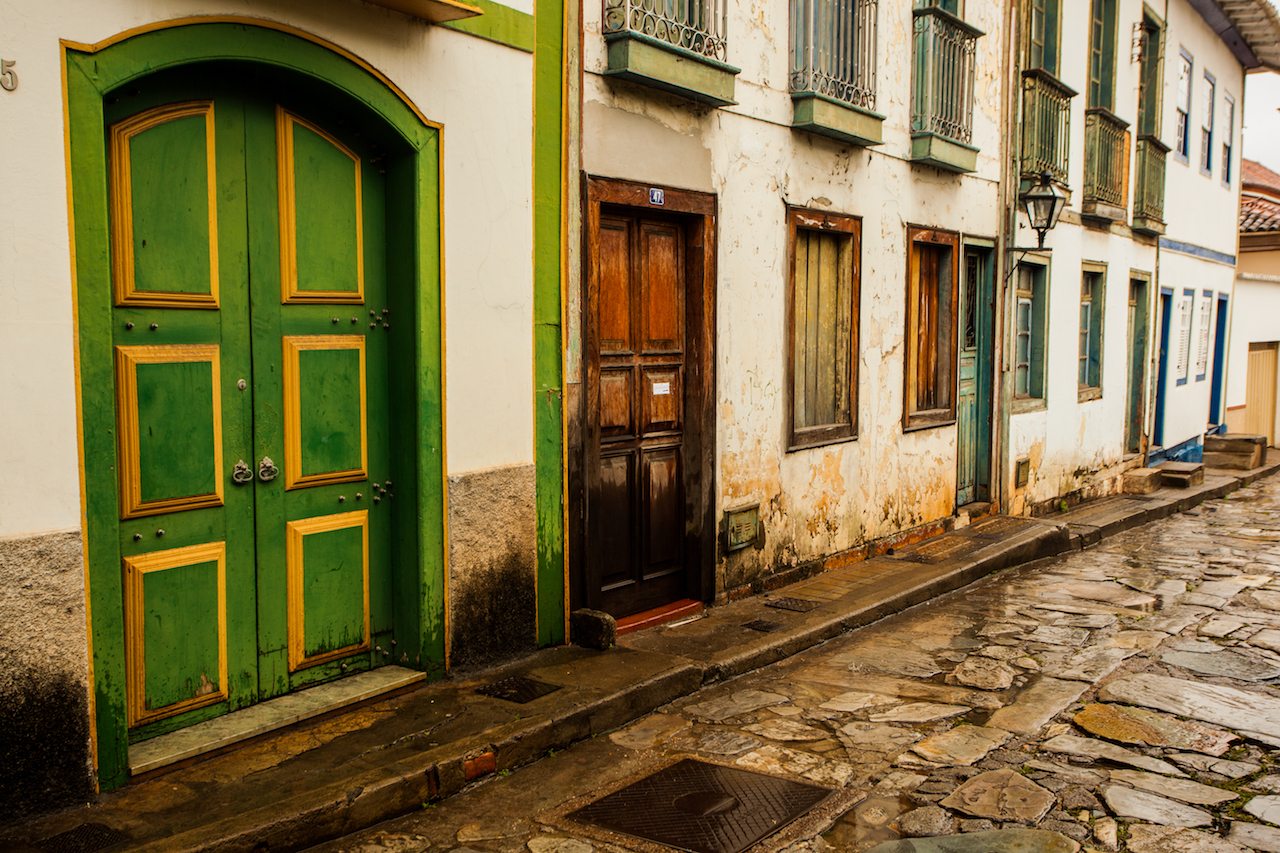 A walking tour of Diamantina Brazil
No visit to Diamantina is going to be complete without simply walking around the town. Wear sturdy comfortable shoes and get ready to burn some calories. And be sure to carry water with you.
As you can see in this photo, the streets are hilly, sidewalks intermittent at best, and the streets are pretty rough. This is all very charming and beautiful, but when it comes to walking around, just watch your step.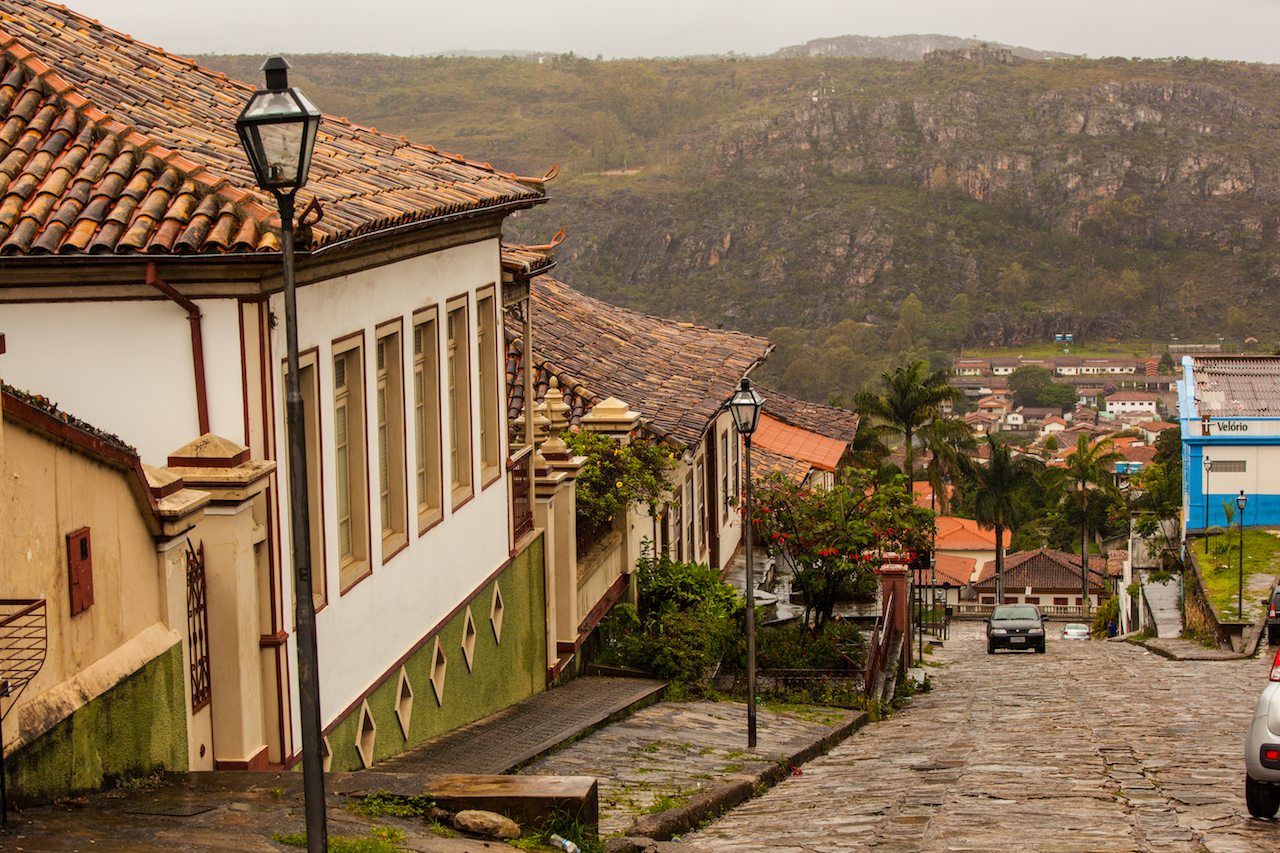 St. Anthony Cathedral in Diamantina
The St. Anthony Cathedral is the center point of Diamantina. Though the building's architecture looks quite old, it is a fairly modern construction, built just in 1940. The original building was built a hundred years earlier, but when the seat of the church was upgraded to a cathedral, this new building was built.
Despite that, the towering facade and the Baroque interior make an impression and really highlight European colonialism in Diamantina. Though the church is closed during Carnival, it is wall-to-wall people in every direction on the streets during the celebration.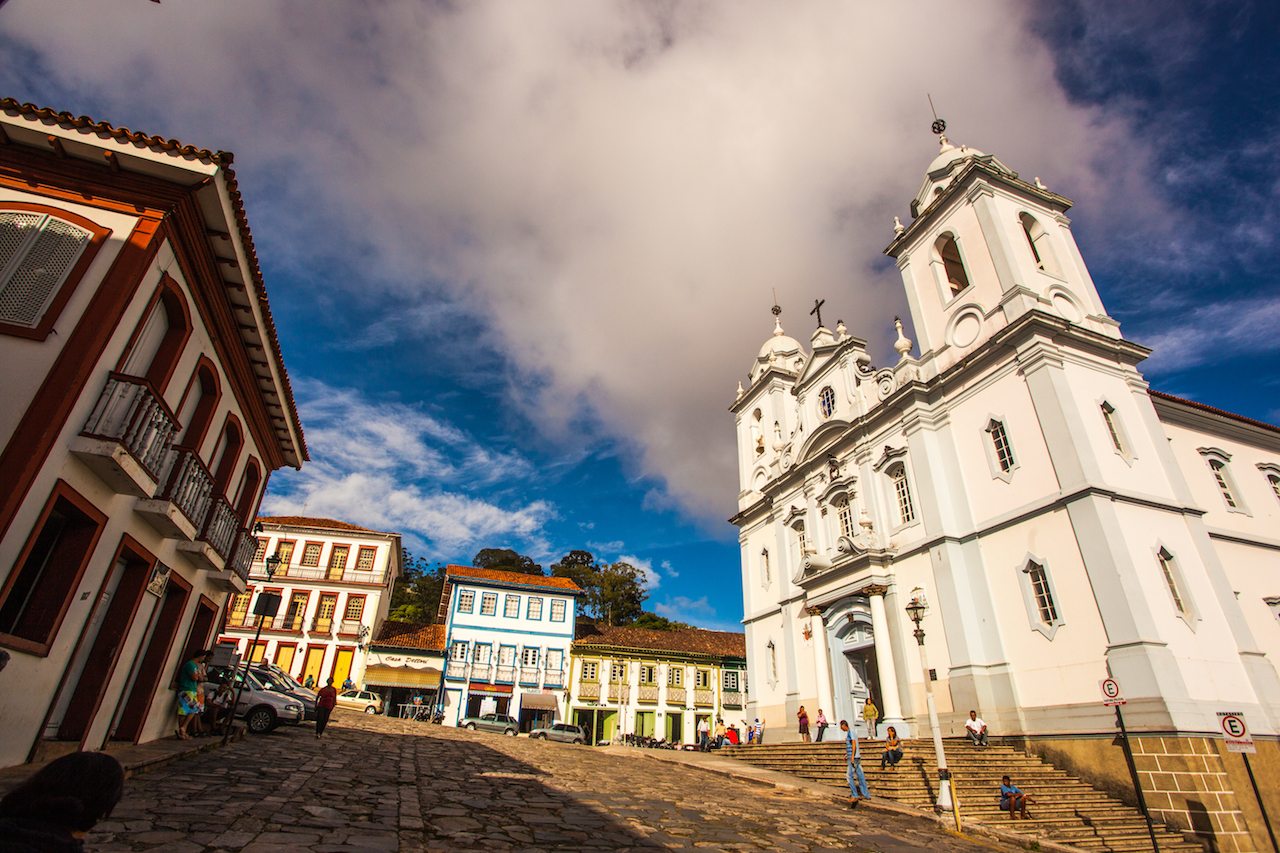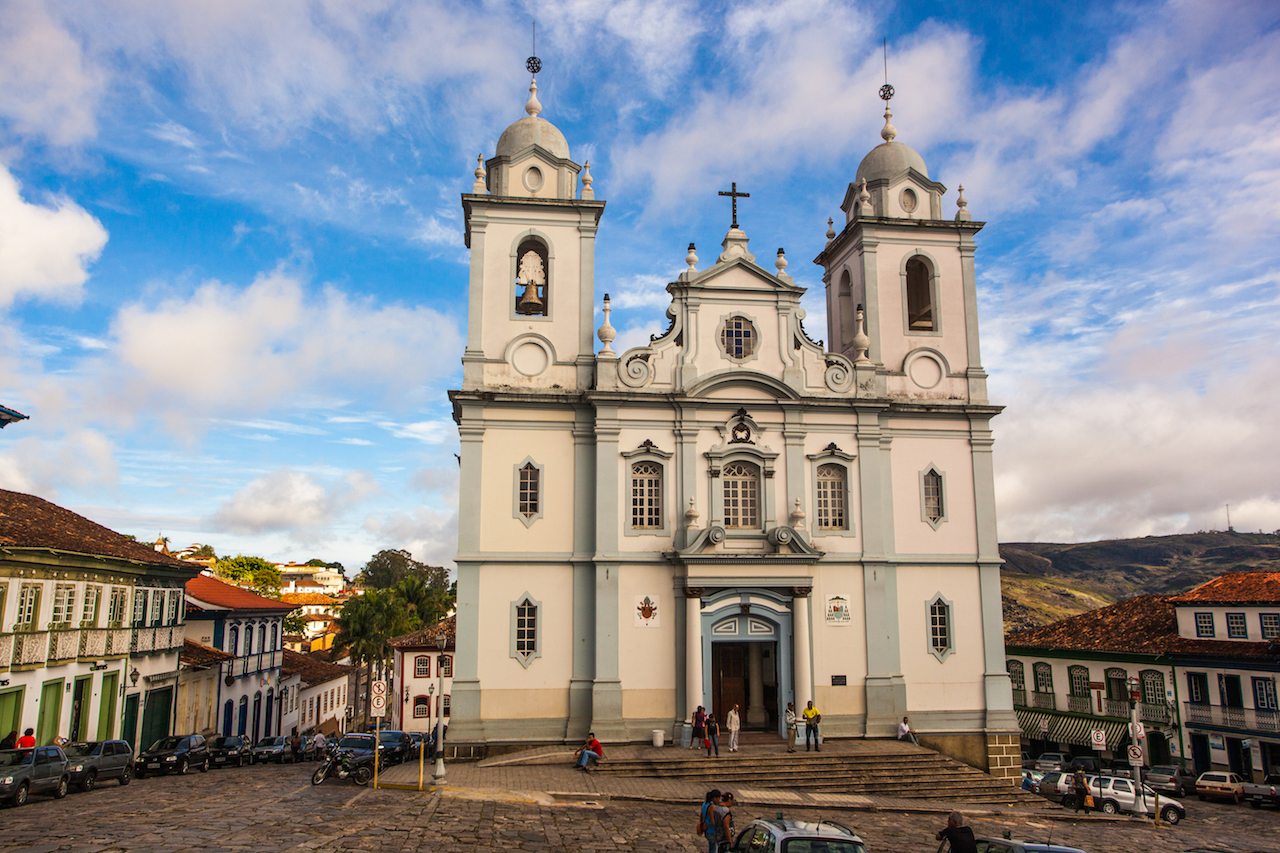 Igreja Nossa Senhora do Carmo
Just a 3-minute walk southeast of the St. Anthony Cathedral is the Igreja Nossa Senhora do Carmo. This church is much smaller than the cathedral but it is the original building from 1766, making it much more historic. The interior is far more impressive with its wall paintings, carvings, and gilded reliefs.
This architectural style extends beyond the churches of Diamantina to the early colonial estates. Though the estates are mostly privately owned and therefore hard to get into, the churches offer a view into Brazilian colonial style.
Adeus
For more information about Diamantina, check out this page on VisitBrasil.com. If you have something to add or an experience to share, please leave a comment below or connect with me directly on Twitter at @judsonlmoore.
This post sponsored by visitbrasil.com, the Official Brazillian Tourism Website