When visiting Dublin there are a few staple must-do activities and tourist traps you simply have to fall in to. Drink a Guinness? Check! Go for a hike? Check! Have a whiskey distillery tour and whiskey taste testing? Check check! Welcome to the home of Ireland's most famous whiskey: The Jameson Distillery on Bow St.
There are a number of activities and tours you can take while visiting The Jameson Distillery but I am going to focus on two: The Jameson Distillery Tour, and the Premium Whiskey Tasting.
Now, don't get me wrong, I was raised in Kentucky (hint, that is foreshadowing..) but I have never been to a proper whiskey taste testing. I have done more than my share of vineyard weekends and even a tequila tasting at the Jose Cuervo distillery in Tequila, Mexico, but this is my first sit down to learn how to fully appreciate the finer side of whiskey. A dear and lifelong friend has called me "Jameson" for about as long as I can remember, so it feels about right that I should have this first experience at The Jameson Distillery!
Further Reading: Visiting the Guinness Storehouse in Dublin. Tour and experience review.
In A Nutshell
Highlights - The facilities are recently renovated but still have that industrial-era charm. The location of The Jameson Distillery make it easy to get in and out of. There are lots of opportunities to eat and drink in and near The Jameson Distillery. The experience is about much more than just whiskey but also helps visitors understand the history of Irish whiskey in general and interesting facts about Dublin's history.
Lowlights - The tour omits any active area of The Jameson Distillery, so it is not really a functional space in any way, just a really nicely themed museum.
Bottom line - The Jameson Distillery on Bow St. is a great way to spend a few hours in Dublin during poor weather or after the sun sets. It offers something for everyone regardless of whiskey appreciation and to understand the history of Jameson, is to understand the history of Dublin.
Take the Jameson Distillery Bow St. Tour in Dublin
The tour of The Jameson Distillery is called The Bow St. Experience. I think this is for two reasons. The obvious one is that the distillery is located on Bow St. The second is that it is not a distillery anymore, rather it is a museum of the original distillery, thus, it is an "experience" and not really a distillery tour. According to the Jameson website, every drop of Jameson is produced in Midleton, Cork, about a 3-hour drive away.
The tour consists of four parts. The first part is mostly about waiting for the second part, but you wait along a wall with a very nice timeline of Jameson history. Much of this is to understand the origins of Jameson, the life of the founder, John Jameson, and the impact that this city within a city has had on Dublin, Ireland, and the world.
Once you work your way down the timeline, you find yourself in a small theater in the round where the "Jameson Ambassador" will tell the story of Jameson Whiskey with the aid of some astoundingly well-engineered visual and audio aids. Walt Disney would be proud!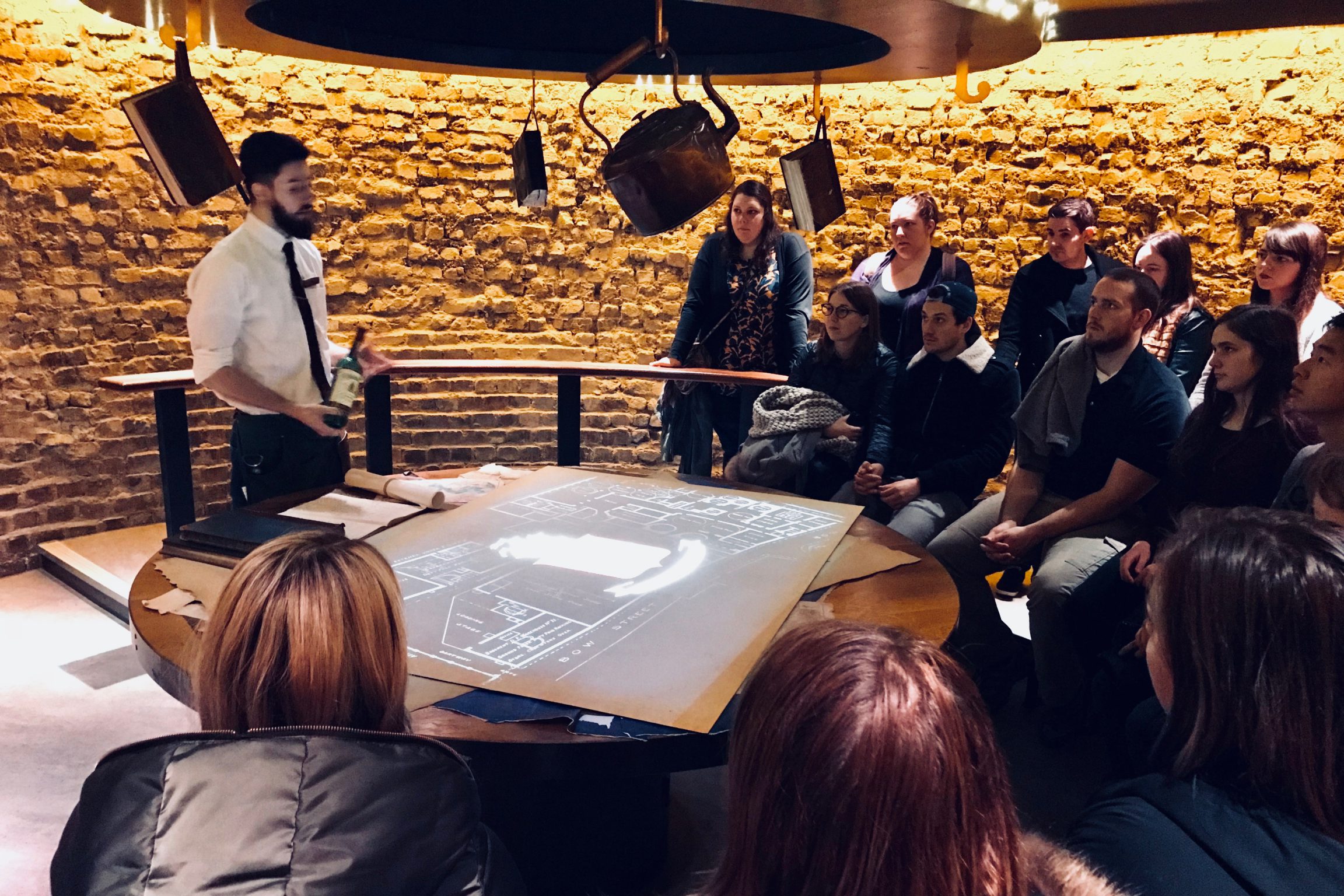 Now that we have gained a theoretical knowledge of all things related to Jameson Whiskey, we move into another room where we get to put our hands on what makes Jameson, Jameson: the ingredients!
In the process room, our ambassador guides us through an interactive explanation of the distilling process. We get to touch the ingredients, smell the stages of distillation, and even come to appreciate the difference between different woods used to make the barrels which infuse whiskey with their smokey quality. Turns out that all Jameson whiskey is aged in recycled bourbon barrels from American bourbon makers.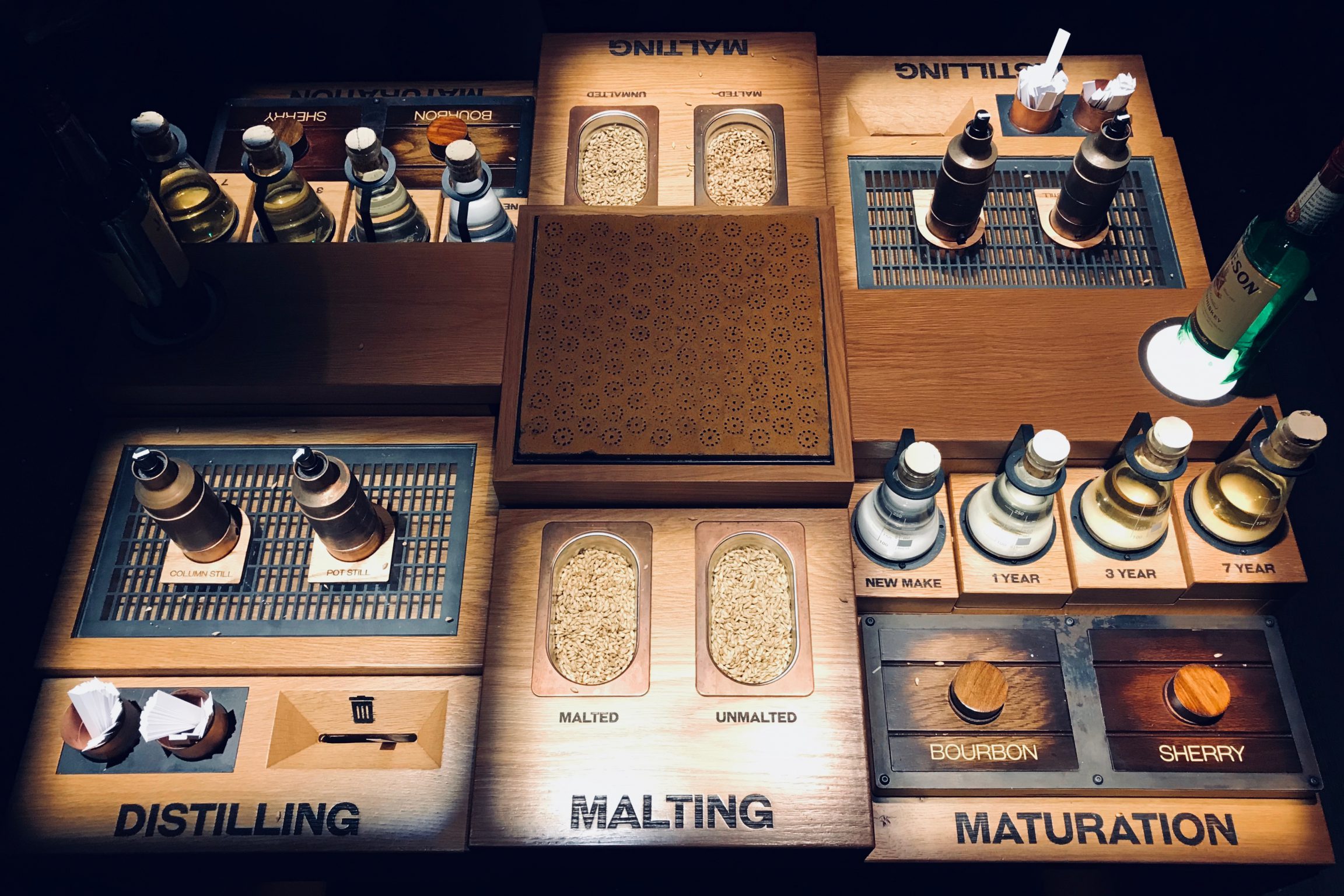 After all of this, we make our way into yet another room where we get a free taste testing of whiskey! Guests are taught how to properly drink whiskey, what qualities to look (and taste) for, and we got to compare three kinds of whiskey.
The first two whiskeys were not labeled and so we were asked to guess what they were. I was surprised that I correctly nailed exactly which whiskeys they were. The first was Johnny Walker Red Label. When I said this, the ambassador asked, "what qualities of the pallet and nose helped you determine that?" I simply said, "because it is bad!" Everyone laughed.
With the second unknown whiskey, I gave it one smell and shouted out, "Jack Daniel's!" Which was correct. When again asked what gave it away for me, I said, "because it is amazing!" Again, everyone laughed. I don't know if it is because of my Kentucky roots, but Jack Daniel's has always been my favorite. I don't pretend to say it is the best whiskey, but it is my drink of choice.
We then moved on to the third tasting, which was, of course, Jameson.
I think having back to back whiskeys is pretty rough on the pallet and I am not so convinced that tasting them like this is really the best idea, but still, I appreciated the opportunity and it was a great way to round off the end of the Jameson Distillery Bow St. Tour.
Learn more about this tour and book tickets for your visit on the Jameson website.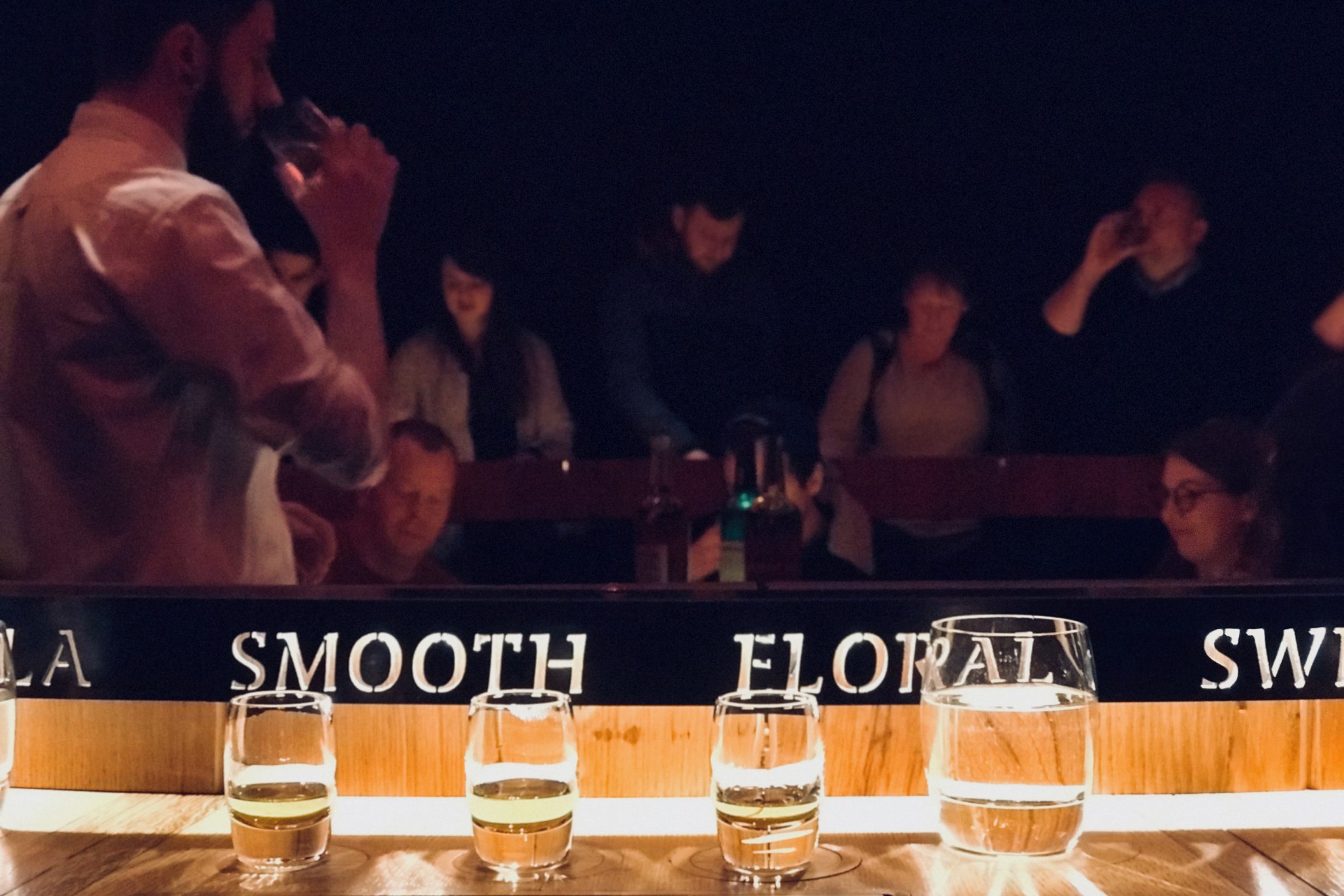 A premium whiskey tasting at the Jameson Distillery Bow St.
Now on to part two of my experience: the premium whiskey tasting at the Jameson Distillery
This tasting was actually a pretty amazing experience. For one, the location is in John Jameson's original office. It has been renovated but keeps the general essence of the original office. John Jameson had a pretty awesome office apparently because it has a full bar in it!
Space is limited to 18 people per tasting. This is a great activity to organize for small groups, team events, and bachelor parties, which is what I walked in to. I was the one man out in a room full of dudes celebrating the pending marriage of one of their friends. But I would say this made the tasting even that much more fun.
In this tasting, we were provided four whiskeys to try, all of which come from Jameson. They were (in order of testing):
Jameson Original
Jameson Crested
Jameson Distillery Edition
Jameson Black Barrel
I will quickly share what I learned about each of these.
Jameson Irish Whiskey (original)
Triple distilled, twice as smooth, one of a kind. Jameson Irish Whiskey is a blended Irish whiskey which has been aged in oak casks for a minimum of 4 years. The base Jameson pot still whiskey is blended with a delicate grain whiskey, allowing them to mature and inherit the nuttiness of sherry casks balanced with the fragrant vanilla of bourbon casks (see the ingredients image above). The final product is sold in the Jameson iconic green-glass bottle.
Nose - A light floral fragrance, peppered with spicy wood and sweet notes.
Taste - The perfect balance of spicy, nutty and vanilla notes with hints of sweet sherry and exceptional smoothness.
Learn More and buy Jameson Original
Jameson Crested
Until the 1960s, Jameson could be purchased by the barrel. This allowed for "bonders" to bottle the whiskey on their own, but the temptation to water down the product proved to be too tempting for too many. Therefore, the practice of selling barrels was ended. The Jameson Crested edition is a celebration of the whiskey from those earlier times.
The Jameson Crested is created in much the same way as the original but it is left to mature longer in the sherry casts than in the bourbon barrels.  The high proportion of sherry casks in the blend delivers vivid sherry & hearty pot still notes with some spice and a hint of melon & ginger. Full bodied with soft delicate sherry undertones, toasted wood, perfectly balanced with fruit, spice and some chocolate notes.
Nose - Vivid sherry pot still aroma.
Taste - Delicate sherry undertones & toasted wood, with fruit, spice & chocolate notes.
Finish - Warm lingering sherry.
Learn more and buy Jameson Crested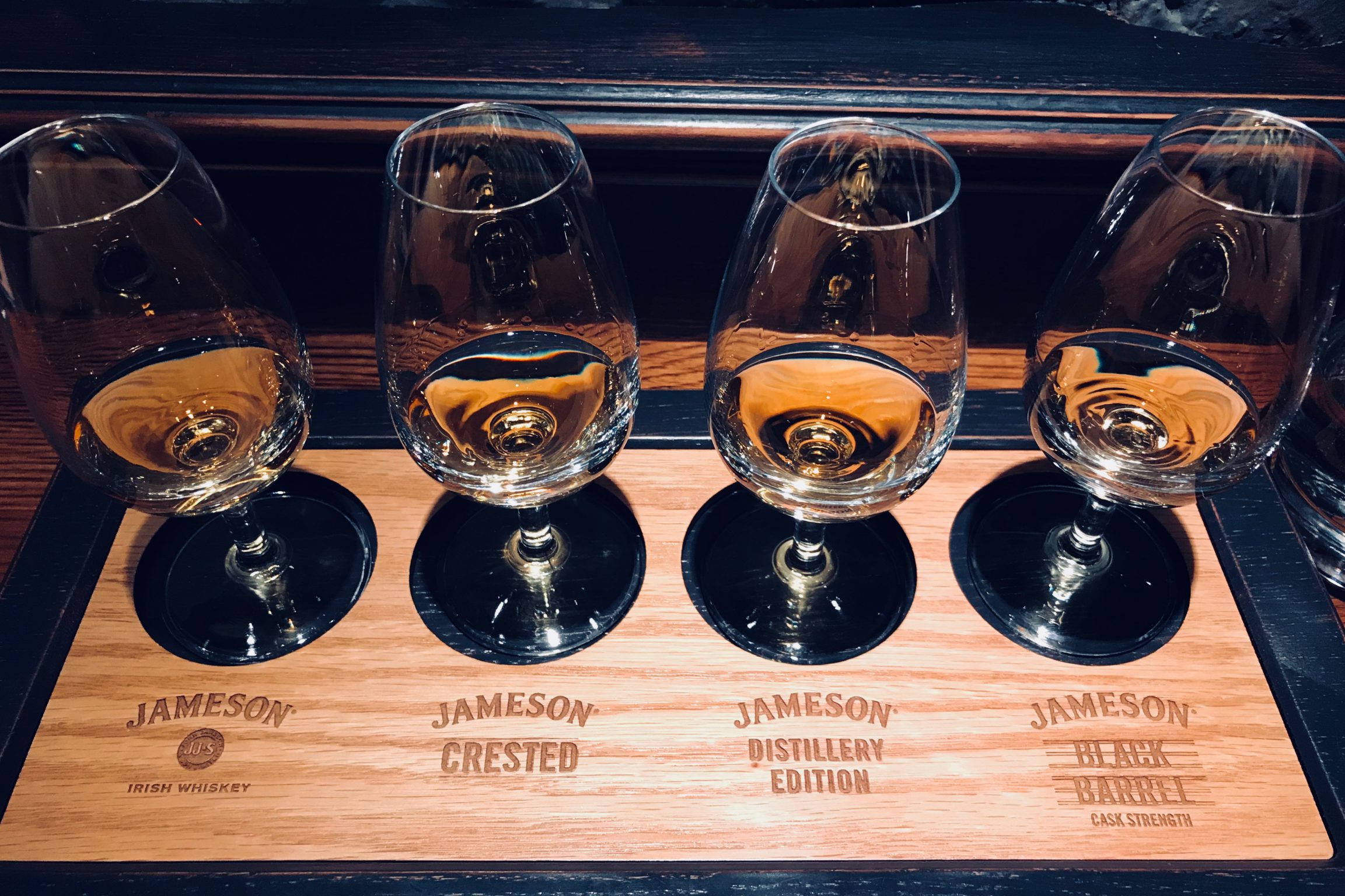 Jameson Distillery Edition
The distillery edition is only available for consumption and purchase directly from the Jameson Bow St. Distillery in Dublin. I found the flavor to be similar to the original Jameson but slightly more citrusy. This whiskey has a bit more of a refined taste with a smoother finish. The initial bite is also dampened a bit, probably by the addition of a little extra single malt.
Nose -  Mango, cream, ginger, buttered corn, sugarcane
Taste -  Orange, brown sugar, ginger, peach, salt
Finish - Corn, sugar, arugula, oak, vanilla, ginger ale, butterscotch
The Jameson Distillery Edition is available only on-site in the Bow St. Distillery.
Jameson Black Barrel
This stuff is like lighter-fluid. Really, it is the moonshine of Jameson whiskeys. We tasted it first straight, and then with a few drops of water. There was a huge difference. The name comes from the twice-charred bourbon barrels which this whiskey is aged in. This gives the finished product a much richer flavor and a lot more intensity than the other bottles of Jameson.
Nose - Time spent maturing in these barrels leads to intensified aromas of butterscotch, fudge, and creamy toffee.
Taste - Nutty notes are in abundance alongside the smooth sweetness of spice and vanilla.
Finish - Enjoy the richness and intensity of toasted wood and vanilla.
Learn more and buy Jameson Black Barrel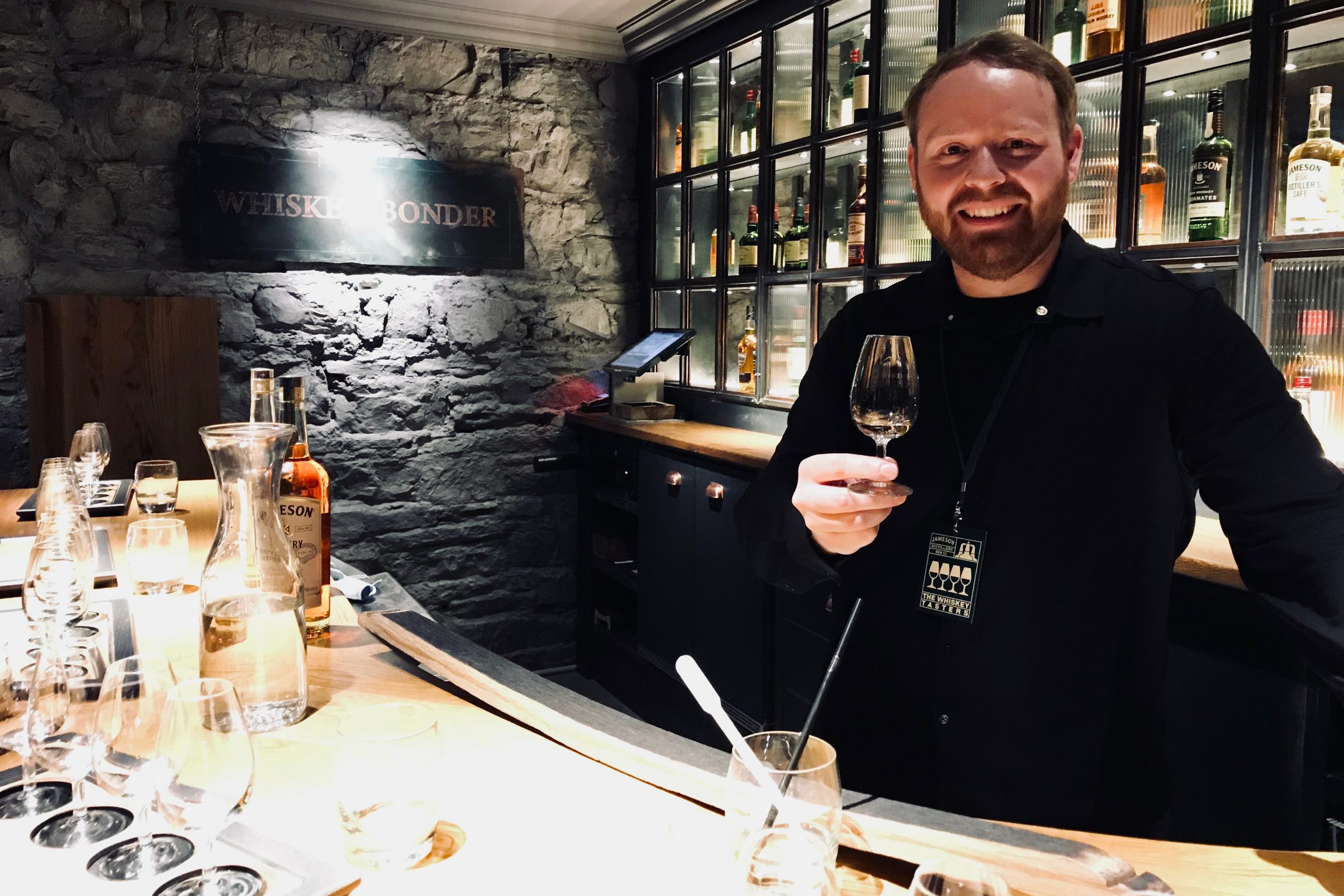 Final thoughts on the taste testing
At the conclusion of the tasting, our ambassador asked everyone in the room to declare which was their favorite. No one said that the black barrel was their favorite. There was probably a fairly equal split among the other three bottles for being the class favorite, with a possible leader of the Jameson Crested, which I also favored.
All in all, this was a really nice experience and one I am glad to have had. It was worth the 30 Euros and 4o minutes. To top it off, the taste testing also came with a really nice book about Jameson with the full history and recipes for whiskey cocktails you can make at home. Unlike the distillery tour, participants of the taste testing also received a 10% discount at the gift shop.
Learn more about this taste testing and book tickets for your visit on the Jameson website.
Sláinte! "Cheers!" in Irish Gaelic
I hope you enjoyed my review of the Jameson Bow St. Experience and the premium whiskey taste testing. Please feel free to leave a comment below with details of your own experience, thoughts on my experience, or any followup questions that you have for me. You can also connect with me directly on twitter @judsonlmoore.