The most significant advantage I have had in life is that when I was young, many adults I respected told me to "do it while you're young." Of course, "it" could mean anything: take a risk, start a business, save for retirement, but for me, it involved travel. After years of hearing their advice, I started listening, and I've been on a grand adventure ever since. This poses the question: Why travel While Young?
Why Travel? This is Why.
People say carpe diem like as if you don't know what the future holds. Though you can't know if this is your last day in good health or not, life can be somehow predictable for many people.
I've made this infographic representing an average American's life, which sticks to the traditional routine of education, career, family, and retirement. The bars represent things in our life which make travel more difficult. The blank spaces are periods of greater flexibility.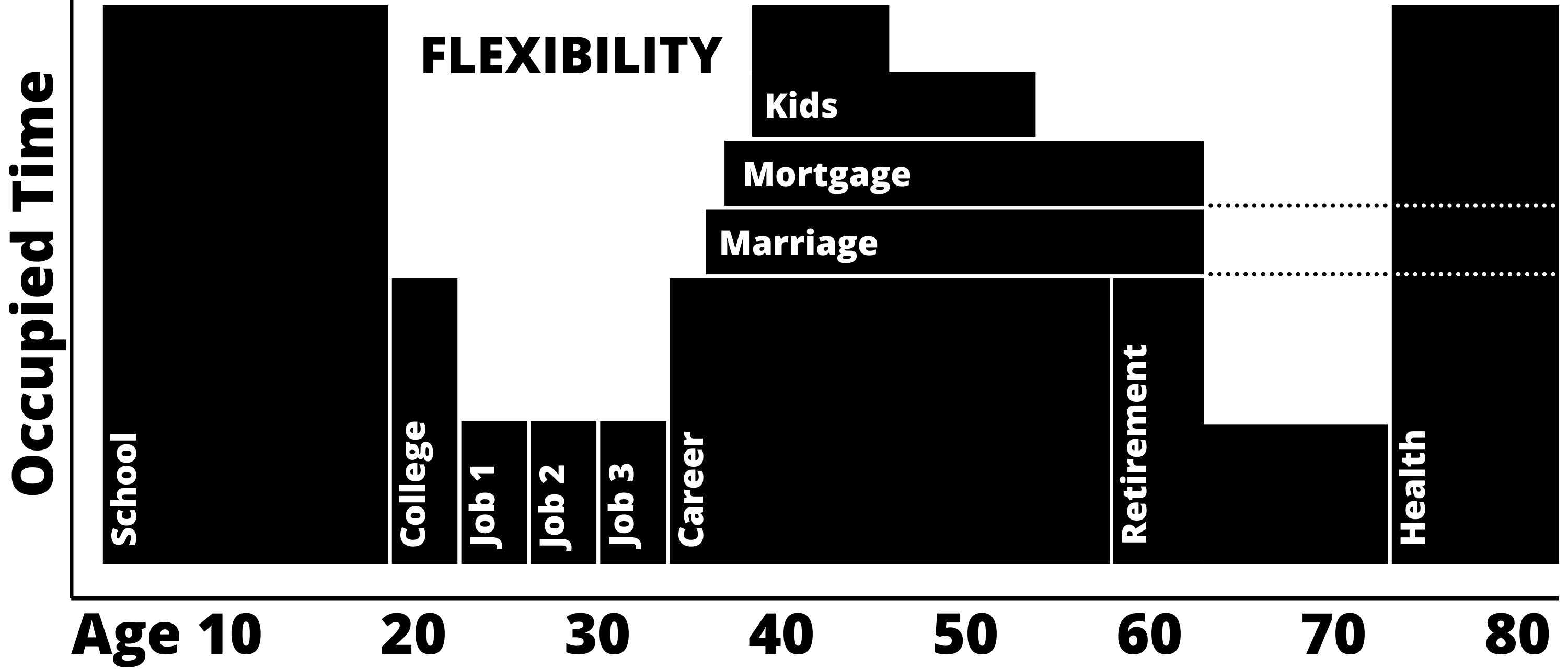 Let me break this down.
Education
We spend the first 18 years of our lives getting educated. Unless you have a family that travels, the chances are that you won't have many opportunities to go out and see much of the world. Even then, you won't have much autonomy in making travel choices.
The big exception to this is to become a youth exchange student. I am a supporter of the Rotary Youth Exchange Program, which I participated in at age 17 when I studied abroad for a year in Germany. (leave me a comment below if you would like me to connect you with your local Rotary Club for more information)
Related Post: The Secret To All My Success
The gaps between high school and college and college and starting your career are excellent times to travel. Those are the two points in your life when you are genuinely free to choose for yourself.
You may feel the pressure to hurry off to college or jump straight into the workforce, but the fact of the matter is that those things will always be there for you. If you want to hold off a week, month, or year to gain some experience seeing the world, you will be that much better prepared for those next steps and seen as a much more attractive candidate by the gatekeepers of your future.
Of course, you can also study abroad for a part or all of your college or graduate school studies. Many programs will fund your way to study around the world. When looking into these, you will read many requirements, which might discourage you from applying, but I assure you that they need you to apply as much as you want them to say yes to your application!
Related Post: 19 Amazing International Fellowship Programs
Career
Gone are the days of graduating from college and going to one job for the rest of your life. Increasingly, recent graduates are discovering the importance of gaining a myriad of diverse experiences. There is a big world out there and a lot to learn about it.
As your first few jobs come and go, consider planning some travel in-between or making one of these jobs at an international location. You may also be interested in participating in a professional fellowship program abroad.
Related Post: Negotiating Travel At Your Job
Your career may very well enable you to travel and work abroad, but these jobs are rare. When traveling for work, you will have to do so at someone else's discretion. Still, some of my best travel experiences have been on behalf of my employer.
Look for careers that involve travel and find an employer that is flexible in working with you to pad business travel with personal experiences.
Family
The joys of starting and having a family are the pinnacle of achievement for many. However, that little bundle of joy does not travel easily or cheaply. The more mouths you have to feed and fly, the more difficult it is to afford travel. Plus, you aren't likely to Couchsurf with a baby in tow. Once a child comes around, your next 18 years will focus on getting them launched into the world on their grand adventures.
Traveling before you start a family is one of the best ways to become a more well-rounded person and an even better parent. The experiences you will gain from learning about a different way of doing things from other cultures are the type of valuable life lessons you can give to your child and give them that much more of an advantage in their own life.
Related Post: 8 Things To Tell Your Family Before You Travel
Retirement
Work hard, play hard (in that order!) The most inspirational adults in my life have had the most breathtaking travel experiences in their retirement.
There is a lot to be said for achieving the time and financial flexibility to live adventurously in your later years, so you should prepare yourself for that. However, you can not know what life will throw at you along the way, and retirement travel is simply a pipe dream for many.
If you aren't in the habit from a young age, chances are slim you will suddenly start to have an adventure once you retire. For some inspiration, watch the Pixar movie that changed my life: Up.
Related Post: Three Ways Travel Changed My Life When I Was Young
Conclusion
Though you will have many opportunities to accomplish all the things on your bucket list, there is no better way to ensure you achieve those goals than by starting while young. Get in the habit early. Adventure often and always be young at heart!
Now it's your turn. What is your story? What have you learned? Comment below to share or connect with me directly at @JudsonLMoore.