I have seen so much of India at this point that I feel like I can give you some good advice and connect you with folks in each area of the country. In the event that you visit India, I think the below India travel guide will be very helpful. Please, add your comments below!
How to get around India
| | | |
| --- | --- | --- |
| For regional travel, trains are a great way to get around. The official online train ticket portal is here, but that site is difficult to work with, and you have to create an account before you can even see what the schedules are. The better way to book train tickets is with Cleartrip (iOS  | Android) or with RailYatri (iOS | Android).  They typically don't accept foreign debit / credit cards though, so it might get tricky. You can easily buy at the station, but you might want to get at least your first ticket booked before arriving in India if you're getting on the train right away. Hotels and hostels are often helpful with booking train tickets, for a fee, of course. The train classes are very complicated and are a legacy of the caste system. You can learn all about the train classes here. I recommend traveling in 1AC (First Class Air Conditioning). |
Carz On Rent is a very affordable service for hiring cars. You can easily book online with them. Rates are inclusive of the car, driver, fuel and a bunch of miles. Carz On Rent is great for hiring a car for a full day, or for a days-long road trip.
Uber works in most cities and is crazy cheap and very reliable. I recommend that you get a local SIM card for your phone so that the drivers can contact you. I have learned that you often need to send the Uber drivers a text message with an exact description of where you are and that you are ready. Though the maps on the Uber app are fairly accurate, a lot of drivers won't start coming your way until you call or text them with a specific location and say you are ready. Having an Indian mobile number is the key to many things you might like to access in India. For example, free public wi-fi which often requires you to register an Indian mobile number in order to receive a serial number and pin code to login.
If you want to book any bus, flights or hotels in India, then use the website or app for Make My Trip. Air India is the national carrier and has the worst service. IndiGo is the best and has the cleanest aircraft.
Sleeping In India
The best hostels are Zostel. They cost a few dollars a night are all placed in prime locations and have very good conditions. There is a Zostel in most Rajasthan destinations and as of 2016 have expanded to15 locations across India! AirBNB is also reliable. (that AirBNB link will give you a $25 credit!) If you are looking for slightly more posh accommodations, then check out the Trident family of hotels. I lived at the Trident in Hyderabad for the duration of my stay and often stayed in their other properties when I was able.
Related Post: The Trident Hotel and Poverty
Where To Go In India
What India travel guide would be complete without the mentioning of some destinations? The most popular tourist route is the Golden Triangle: Delhi > Agra > Jaipur > Delhi.
A great travel plan would be to land in Delhi, see Delhi for 1-2 days, and then go by car to Agra. Agra only requires one day, but you should arrange your travel to see the Taj Mahal at sunrise. Don't be late. Contact Sarfaraz on Whatsapp (+919412330010), he is an amazing guide. He is a university professor and is very knowledgeable about all things Agra. His rate for me was INR 950 for 4 (or maybe 6) hours. While in Agra, you must see the Taj Mahal and the Agra Fort. I also highly recommend seeing the Taj Mahal from across the river; no one is over there, and you can get an awesome photo like this one: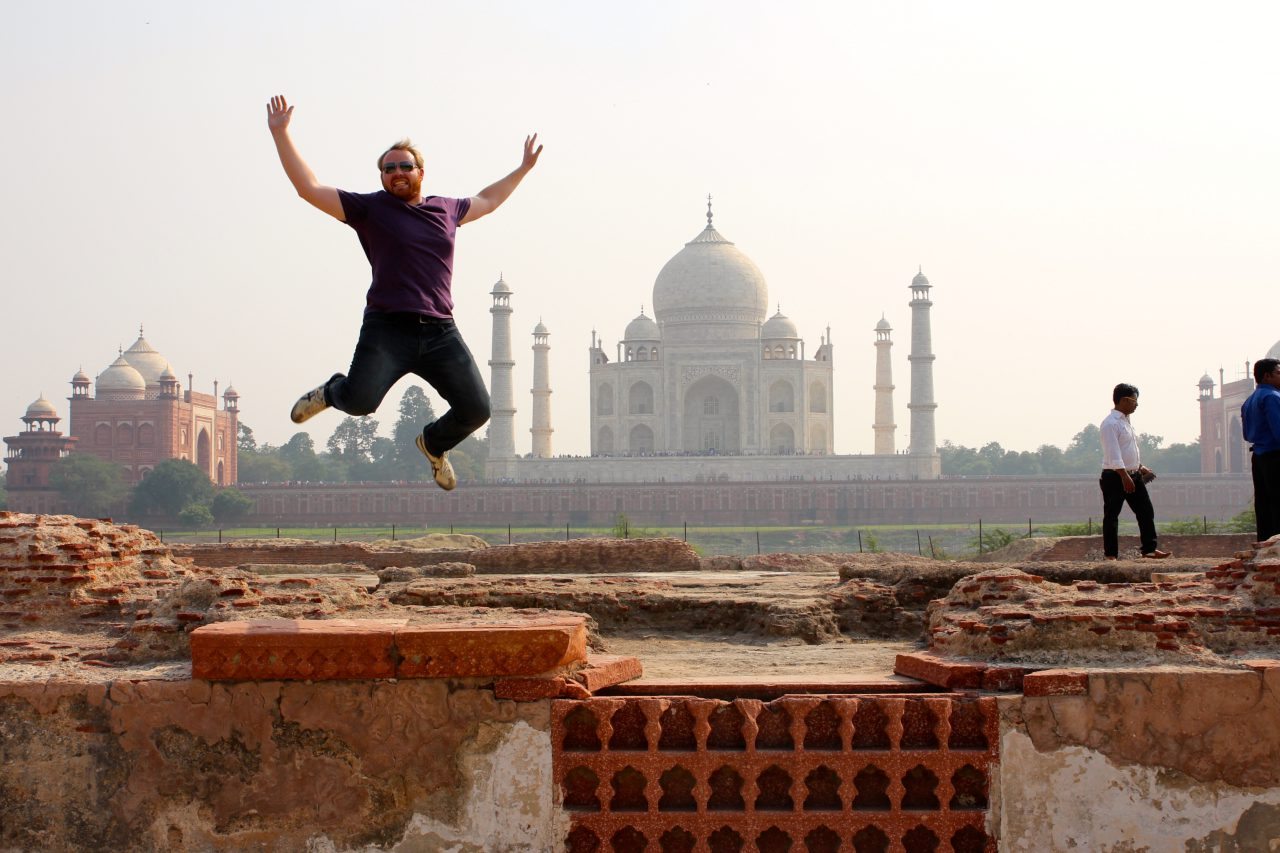 From Agra, take an overnight train all the way to whatever your furthest away destination is if you're thinking of returning at the end to Delhi. So that means take a train to Jodhpur, Udaipur or Jaisalmer; then work your way back toward Delhi for your return flight.
Aside from that, I can give you specific advice from my experiences in Jaipur, Ajmer and Pushkar (links are to my other blog posts for those destinations). Wiki Travel and Trip Advisor will be your friend throughout any travel.
You should try to see Pushkar. It is the holiest site in Hinduism and is the location of Moon Lake which is believed to be the origin of the Earth.
If you have time to do something other than the Golden Triangle, then you should go to Dharamshala, the home of the Dalai Lama. Check his schedule to see if he will be home while you are around. If so, he often gives teachings which open to the public, you just have to show up way early. Also, if you go there, I have a fantastic contact for buying the best jewels, rugs, carpets, Indian handicrafts and Tibetan paintings, and at fantastic prices.
Useful Apps In India
Uber - Taxi service

Make My Trip - Flights and hotels

Zomato - Location-based recommendations (like Yelp)

Book My Show - Tickets for events

Google Maps (note: traffic and drive-time data is unreliable)

Pocket (combined with WikiTravel it is a great resource to store travel guides on any place you plan to visit)
Other Online Resources
I hope that this India travel guide has been interesting and informative for you. Please comment below if  you make it to any of these destinations and please share your photos with me at @judsonlmoore! Have fun and good luck!